A FAST GROWING
NETWORK
Our Offices
Meet the people who you really want to meet.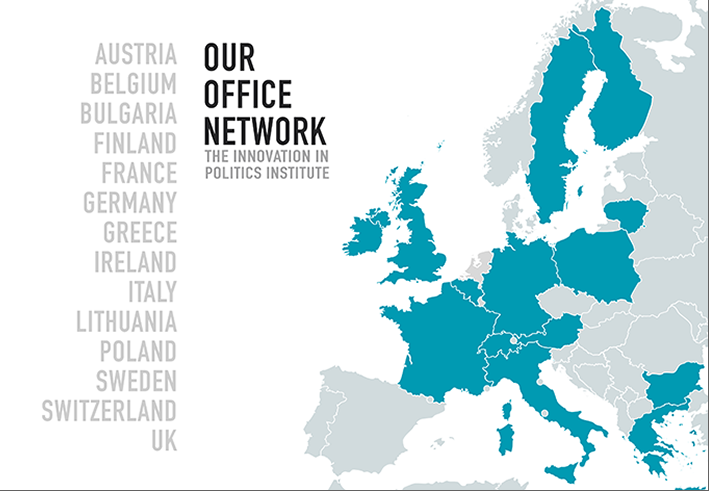 Austria / Head office

Edward Strasser
CEO
The Innovation in Politics Awards have been co-founded by Edward Strasser, whose professional career includes positions in politics and public relations. Since 2000, he has been a partner at the Skills Group, a leading Austrian PR firm. Before that, Edward was a member of the staff of the Secretary General of the Social Democratic Party in Austria. He has initiated several political projects, including a press agency for migrant issues in 2011, and is co-founder of respekt.net, an internet-based crowdfunding platform for civil society projects. Edward Strasser is a lecturer at the University of Vienna's Department of Communication and was previously Secretary General of the Austrian Association of Public Relations Professionals. His political work focuses on bridge-building projects and cooperation across the political spectrum.
Belgium

Stephen Boucher
Stephen Boucher is the founder and CEO of dreamocracy, a think and do tank dedicated to mobilising collective intelligence for the common good. He is the author of the Petit manuel de créativité politique - Comment libérer l'audace collective ("Little manual of political creativity"). He was previously CEO of consoGlobe.com, France's largest online media on sustainable lifestyles, and director for European policy at the European Climate Foundation (ECF). A Harvard Kennedy School of Government and Sciences Po Paris graduate, he co-directed the Jacques Delors Institute for four years before the ECF. He currently teaches on matters related to policy innovation, civic techs and political influence at Sciences Po in Paris, the Solvay Brussels School and the Université Catholique de Louvain.
Bulgaria

Alexander Dourchev
Alexander Dourchev is the founder of All Channels Communication group Bulgaria (ACCG), a leading Bulgarian communications agency. The EU commission's representative office in the country has been a partner and key client of All Channels since 2006. in 2013, the European Parliament Office in Bulgaria also chose All Channels as its trusted communications partner. Alexander has worked with almost all of the political parties in Bulgaria on various political projects. He is a professor at the American University in Bulgaria and at Sofia University. He has a master's degree in political management and public policies from New Bulgarian University, as well as a certificate in national programme management skills for young leaders and politicians from the Bulgarian School of Politics. Alexander was the chairman of the Bulgarian Association of PR Agencies from 2011-2014 and its deputy chairman between 2009 and 2011.
Finland

Alpo Räinä
Alpo Räinä is the Chairman of Finnish MTL Communications Agencies Association as well as Managing Director and Partner at the Helsinki-based Mailand Communications. He works with nearly all Finnish political parties in public affairs projects and initiatives that support the development of a prosperous and democratic society and business life. MTL Communications Agencies operate to strengthen the position of communication as well as the role of open and free media in Finland and Europe. Especially interested in researching and developing cultural identities in public organisations and private companies, Alpo has been consulting his clients across borders for thirty years. He has a master's degree from Oulu University and an Executive MBA degree from Aalto University.
France

Lena Morozova-Friha
Lena Morozova-Friha is the Managing Director of the Paris-based pro-European think and action tank Europanova. Its mission is to promote a strong, political and democratic Europe by fostering public debate, promoting young talented individuals and bringing together the brightest minds around commonly shared European values and interests in order to propose innovative and creative ideas to local and European decision-makers. In this framework Lena and her team managed pan-European projects involving experts, politicians, organisations and students from all over Europe. Graduated from Sorbonne and College of Europe, Lena has an extensive background and network in the EU institutions, multinational private sector and media. Settled in France since 2003, she lived and studied in Uzbekistan, Ukraine, Russia, Germany, United States, Spain, Belgium and Poland. Convinced that the future of the European Project lies in the hands of innovative people connected to the realities of the citizens and able to build trust in their future, Lena has begun a new chapter in the development of Europanova's activities by joining the Innovation in Politics Awards.
Germany

Josef Lentsch
Josef Lentsch is Managing Partner of the Innovation in Politics Institute Germany. He has 20 years of experience in political and administrative innovation. In 2012, he became a co-founder and founding board member of NEOS, Austria's most successful political start-up since WWII. In 2014, he became Founding Director of NEOS Lab, the party's think and do tank. Previously, he worked as Director International at the Royal Society of Arts in London, and as co-founder and Managing Partner of UNIPORT, Austria's largest careers service for students and graduates. In 2018, Springer published his book "Political Entrepreneurship". Josef is passionate about designing and prototyping new policies, formats and organisations that can be scaled up to make a real difference for politicians and citizens alike. He holds an MSc in Psychology from the University of Vienna, and an MPA in Public Administration from Harvard University.
Greece

Dimitris Roulias
Dimitris is a Physicist with post-graduate studies in Astrophysics, in Athens University. But after jobs with a leading IT magazine throughout the 90's, IBM Hellas' Corporate Communication Department, from 1993 as Manager of Communication and Head of the Press Office for Greece, Dimitris became the Managing Director of OgilvyOne. In 2005, he left Ogilvy Group for Communication Effect, the Edelman affiliate in Greece and 3 years later joined OUT OF THE BOX PR agency, becoming a Managing Partner. OUT OF THE BOX covers the full spectrum of Public Relations services. Dimitris also serves, as Secretary General, on the board of EDEE (Hellenic Association of Advertising and Communication Agencies) and represents Greece at ICCO (International Communication Consultancies Organization).
Ireland

Joan O'Flynn
Joan O'Flynn has over 20 years of extensive experience of working on social policy, equality and community development issues within the public and voluntary sectors. Joan also teaches social policy and policy communications and is a Board member of the Irish Penal Reform Trust.
Italy

Martin Slater
Martin Slater is the founder and CEO of Noesis Group, one of Italy's leading communication companies. He has broad experience of working in both the private and public sectors. After obtaining a degree from the University of Essex he went on to complete a PHD at the Massachusetts Institute of Technology. Specialising in the study of european politics, Martin then taught and carried out research for several years at the Universities of Harvard, Clark (both USA), Essex (UK) and Turin (Italy) before moving to the UK treasury where he advised ministers on agricultural and trade policies. In 1992, Slater set up a communications company in Milan. Previously, he had done extensive research on Italian politics and had also been a professor at Turin University. Martin had developed extensive networks within Italy. Running a business gave him a new perspective in understanding the importance of the political area to the economic, social and cultural development of the country. "politicians can make a real difference to people's lives, both positively and negatively."
Lithuania

Dalia Bankauskaitė
Dalia Bankauskaitė is an Adjunct Fellow at the Center for European Policy Analysis (CEPA) in Washington, D.C and Media Program Director at Vilnius Institute of Policy Analysis (VIPA). Her research focus is strategic communication, society's resilience and trust building, society's mobilization and motivation as state crafting. She has extensive professional experience in dealing with the public and private sectors in integrated communication and marketing, and project management in Lithuania, Ukraine, Bosnia and Herzegovina, Georgia in the field of European integration. In addition, she has diplomatic experience with the Lithuanian Embassy in Moscow. Ms. Bankauskaitė holds a Master's degree from the LSE, UK and EMBA from Baltic Management Institute (BMI) in Lithuania.
Poland

Julia Kozak
Julia Kozak is a member of the council of experts at think tank (an independent analysis centre serving as a platform for the exchange of experience and views on management, leadership and globalisation issues) and the Polish academy of PR experts. She has 20 years of extensive experience in the field of integrated communication. She established the Polish office of FleishmanHillard, an international public relations and integrated communication agency, and led the company for 13 years. Julia and her team started one of the first public affairs companies in Poland. She has managed projects and communications for leading Polish and international companies and institutions. Julia has worked with teams from over 20 countries in Europe, Asia, North America and Australia, planned communication activities for more than 200 companies and private and public organisations, winning a number of Polish and international industry awards. She was the Vice President of the Association of Public Relations Companies (PPRCA) for four years and a member of the American Chamber of Commerce for 11 years.
Sweden

Lisa Pelling
Lisa Pelling is the Chief Analyst at Stockholm-based independent think tank Arena Idé, which is financed primarily by the Swedish Trade Union Movement. Arena Idé is part of the Arena Group, together with the publishing House Atlas, Communications and Campaign Consultancy Arena Opinion and leading Cultural and Political Magazine Arena. Lisa was appointed Political Advisor to the Swedish Minister for Development and Migration in 2002 and to the Swedish Fforeign Minister in 2005. Before joining Arena Idé in 2013 she was the Programme Manager for Migration at Global Challenge, a think tank. In the same year, she completed a PHD in Political Science at the University of Vienna. Lisa Pelling is a columnist for Daily Digital Newspaper Dagens Arena and often appears as an expert and commentator in other media, such as Swedish State Television SVT and Public Service Radio SR.
Switzerland

Daniel Heller
Daniel is partner at Farner Consulting, Switzerlands leading Communication Consulting Agency with offices in Zurich, Bern, Lausanne and St. Gall. He has over 25 years experience in Strategic Leadership, Governance, Corporate Affairs and Crisis Communications. Daniel heads the Public Affairs unit at Farner Consulting, presides the Innovation Board and leads Farners Innovation and Startup Communications Desk. He was long-term Member of the Parliament in the Canton of Aargau, Switzerland, for 10 years he was Chairman of the Parliamentary Group "Freisinnig Demokratische Partei" (FDP). Beside Daniel is the President of the Board of Directors of the Cantonal Hospital Baden, the Clinic Barmelweid, the finance Institutes Clientis Bank Küttigen Erlinsbach and Reuss Private Group. Daniel holds a PhD in history and political Science from the University of Zurich.
United Kingdom

Ronan Harrington
Ronan Harrington is the founder of Alter Ego, a European network of political leaders advancing transformational change. His background is in political strategy and systems change. He was previously a scenario planner on the world of 2030 for the British Foreign Office and a Director of Futures and Strategy at a global law firm. He holds a Masters in Public Policy from the Blavatnik School of Government, Oxford University.