THE PROOF
IS IN THE
PUDDING
Showcasing
Whether you want to attract regional business investments, improve opportunities for children or increase citizens' participation: We identify and present to you the most successful best practices in politics and policies in Europe.
Proving your concept – by showcasing best practice
Deciding on the right policy for achieving a specific political goal becomes more and more complex. Today, any political initiative needs a proof of concept – and risk reduction. We deliver such proof by showcasing which approaches really work. We identify – and provide you with – successful best practices from all over Europe to support your initiative. And, we bring the politicians behind these projects together with your people, so that your team, experts and the media may get inspired by their successful example.
Convincing the friend, disproving the foe
It is easier to bring through an already successful policy than just a plan. Several politicians in Europe are likely to have been facing the same task you are. Some of them will already have implemented elements of your approach in their countries, regions, or municipalities. With our Europe-wide office network we identify and document these projects for you. So that reasonable, proven best practices from a wide political spectrum may support your cause.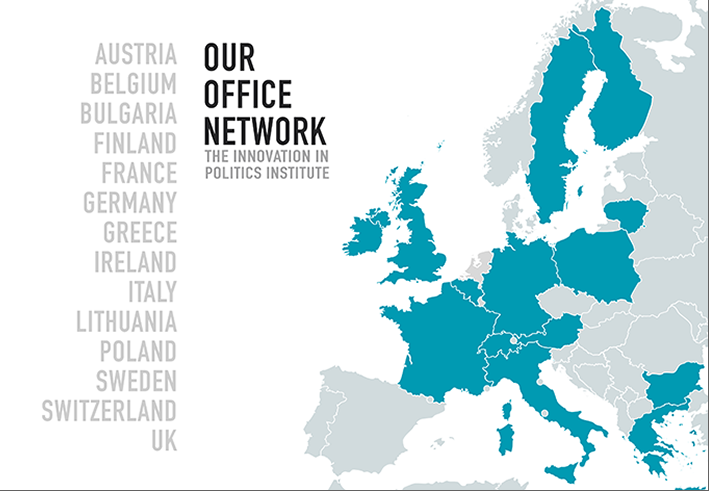 Our resources are ready for your needs
With our annual Innovation in Politics Awards we identify the most ground breaking political initiatives in all important areas of politics throughout Europe. This collection of best practices is our main resource. In addition, we take on special scouting tasks for our partners. For example, the Federal Ministry of Labour in Austria, for which we identified the most successful projects to create jobs for long-term unemployed over-50s (see documentation here)
For more information or a specific inquiry please contact:
Ronny Zuckermann, Founder and Senior Strategist: service@innovationinpolitics.eu
Previous
Sometimes knowledge needs privacy